Tin City Fashion Week Jos to hold November 2022 (Details)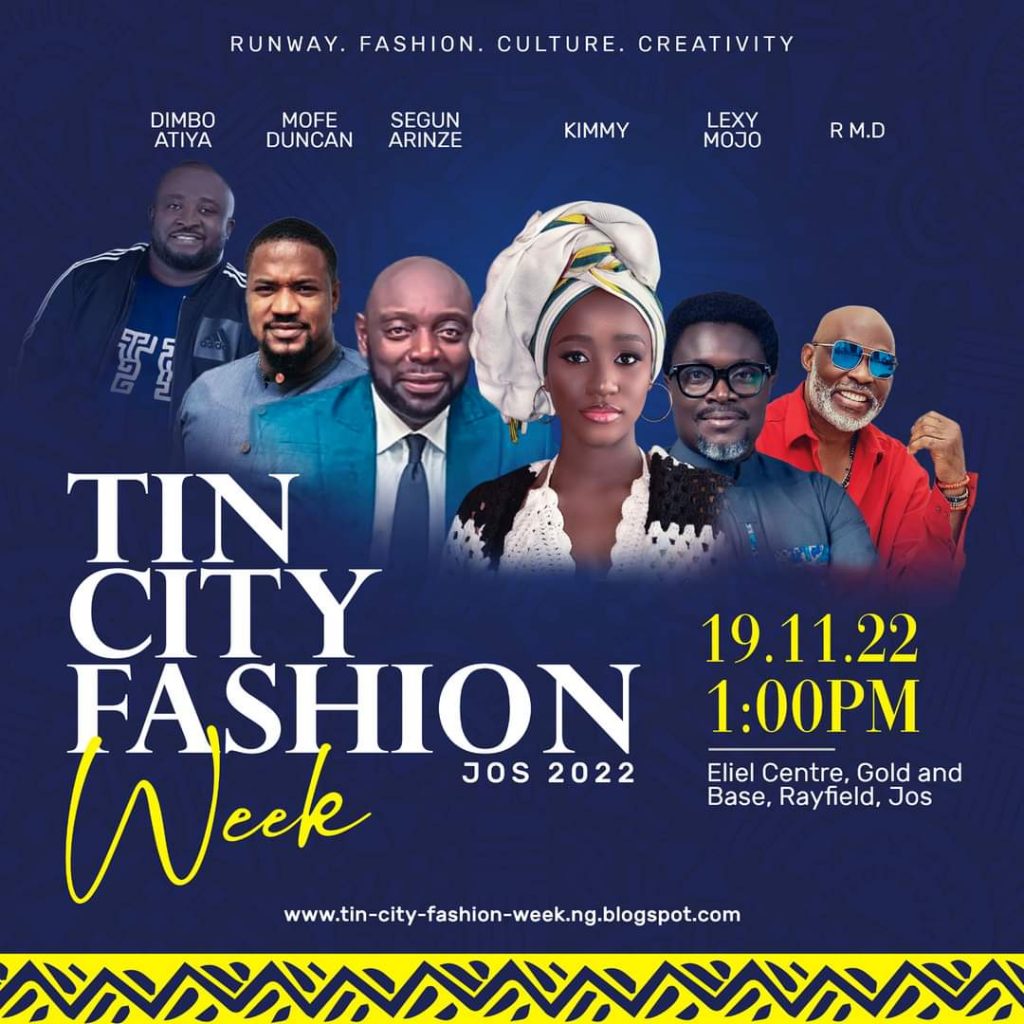 This is the BIGGEST multifaceted fashion forward Event in Northern Nigeria, birthed in 2021, this project has housed the Best of the best across the runaway and spotlights of the Event process. This year, TCFW is bigger as we have the support and presence of many industry juggernauts such as:
Dimbo Atiya (Director, Halita, Sons of the Caliphate, The Rishantes and many more)
Richard Mofe Damijo (RMD)
Lexy Mojo – Legendary Gold
Mofe Duncan
Segun Arinze*
WHAT ARE WE DOING THIS YEAR ,TCFW NOVEMBER 2022?
WE ARE USING THE POWERFUL POTENTIAL OF FASHION DESIGNING TO REPOSITION THE PLATEAU ON THE WORLD MAP USING THE GUODO FABRIC AS A BASELINE TO EXPLORE BUSINESS POSSIBILITIES, EMPLOYMENT AND LIFESTYLE.
AGOGO AFRICA and the Nigerian Export Promotion council and the African Union have brought the designer Fashion world to clientele of the entire world recognizing that person's of repute, brands need to connect and do business with Africa's newest and most popular e-commerce platform on AGOGO AFRICA. TIN CITY FASHION WEEK also pulled in designers from Jos the likes of: DEL AFRICA, MSONLISA & GRAMMON 24 to bring to the exhibition hall at the export house in Abuja a total Fashion experience that reignited the combined Creative inventus of fashion enthusiasts and influencers on the metaverse.
The CEO of TIN CITY FASHION WEEK- Christabel Bentu ,had teamed up with seasoned industry greats across several lead sectors of the business world such as;
CEO of Legendary Gold-Lexy Mojo Eyes, Ghanian actress Belinda Effah and team members of the event at AGOGO AFRICA that was launched in March 2022.
THE 2022 NOVEMBER EVENT PROMISES TO BE ONE TO REMEMBER: THE TIN CITY FASHION WEEK IS HERE AGAIN AND THIS TIME, IT WILL BE CAPTURING, CREATING AND PRESERVING THE AFROCENTRIC AURA OF THE GUODO FABRIC TO ELEVATE ETHNICITY LEVERAGING ON SEMBLANCES OF THE PEACOCK!
⬆️ BY IDENTIFYING CULTURAL SHIFTS IN FASHION,
⬆️ SPEARHEADING THE GUODO TREND AND POWERING THE FASHION CREATIVE ECONOMY
THE TIN CITY FASHION WEEK FUELS THE FASHION INSTITUTIONS OF THE ENTIRE MIDDLE BELT REGION OF NIGERIA WEST AFRICA WITH STORYTELLING SHADES OF THE GUODO EPOCH!
CALL FOR VENDORS & DESIGNERS
WHETHER YOU'RE COMMERCIAL, BESPOKE, REVENUE GENERATING, SOCIETY CHANGING, FASHION DISRUPTIVE OR HEADLINE DRIVING, INSPIRE ACTION OR DRIVE YOUR BRAND NAME AND FASHION LABEL FORWARD BY REGISTERING AS A DESIGNER TO SHOWCASE AT THE 2022 TIN CITY FASHION WEEK IN JOS PLATEAU STATE AT THE PRESTIGIOUS ELIEL CENTER.
CALL: 09061484845 (HOTLINE)
OR
MESSAGE VIA IG :@TINCITYFASHIONWEEK
FACEBOOK: @TINCITYFASHIONWEEK
FOR INQUIRIES ON HOW TO BE PART OF THIS SUPER NOVA NOVEMBER EVENT IN 2022!
THOSE TO WATCH OUT FOR IN THIS 2022 EXHIBITION!
👇
√INSTITUTIONS
√DESIGNERS
√MANUFACTURERS
√MODELS
√PHOTOGRAPHERS √MEDIA
√CATALYSTS √RETAILERS
Are you ready for this stellar event? Let's go!
tincityfashionweek
fashion
TCFW
jostotheworld
northerngiant
jos
plateaustate
Powered by
Silt Media Consult